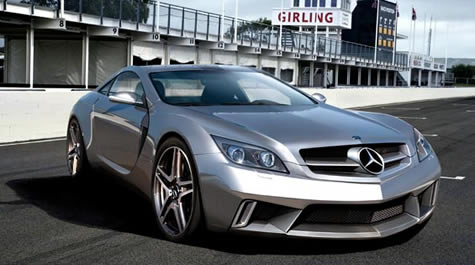 The
SLC
is expected to debut at the Geneva Auto Show in 2008 and would probably arrive as a 2010 model. As you can see from these renderings it is still unclear if the
SLC
will be a front engine ultra light hardtop
uber
–
SL
or if it will be a new mid-engine halo car to directly take on cars like the
Carrera
GT and
Enzo
. Personally I'm hoping for the latter. I think that
CLK
AMG
Black Series already fills the needs of buyers of a front engine model. If they can build a
spectacular
mid-engine car with a price tag around $300k they would have a relative hit on their hands.
Whatever they choose, unlike the SLR Mercedes is developing this new car totally in-house with
AMG
. This fits with past rumors that Mercedes is looking to replace
McLaren
in their F1 efforts with
AMG's
racing division
HWA
.
Bring me a deposit today and I'll get you on the list now for whatever they decide to build.