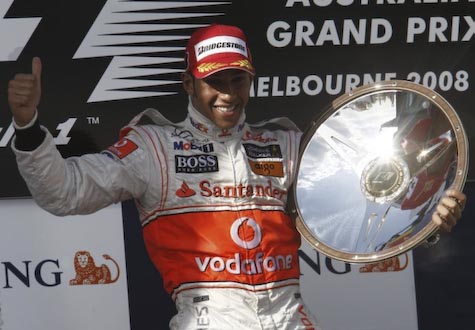 What a Race! If this is what we can expect for the rest of the 2008 season – hold on! This was the first race without the aid of traction control and it really showed. Between crashes and mechanical failures only 7 of the 22 cars that started the race took the chequered flag.
The McLaren Mercedes Team stayed above all of this and kept one of their cars in the for the lead whole race. Our new driver, Heikki Kovalainen, put on a stunning performance. He led for 8 laps and posted the fastest lap of the race. Lewis Hamilton started on pole and led for 50 laps to take the win by more than 5 seconds. This puts him in the lead for the driver's championship and, combined with Heikki's fifth place finish, puts the Mclaren Mercedes Team well ahead in the constructors championship.
The large number of accidents also gave plenty of air time to the new 2009 SL63 AMG safety car. A Mercedes did lead every lap!