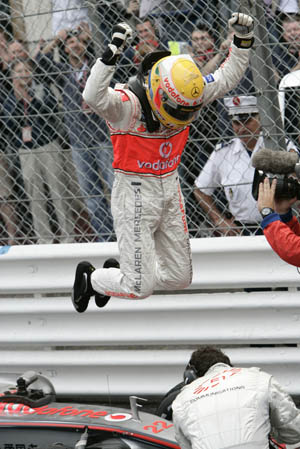 Formula One's visit to the streets of Monaco is always a highlight of the season. With the elimination of traction control this year's race was already going to be exciting. Then it started to rain.
McLaren Mercedes drives Lewis Hamilton and Heikki Kovalainen qualified third and fourth behind the Ferraris. Lewis jumped to second off the start. On lap six Lewis clipped a wall and damaged a tire forcing him to pit. Between the rain and accidents Lewis was able to take the lead and open up a 40 second gap. With the race almost over the Safety Car came out eliminating Lewis' lead. After the restart he easily held the lead and opened up a 3 second gap in the next eleven laps before the race was ended by the 2 hour time limit.
Heikki's car failed to get off the line for the formation lap so he had to start from the pit lane. He fought back to finish in eighth.
With this win Lewis Hamilton has taken the lead in the drivers' championship by three points. McLaren Mercedes has moved up to second in the constructors championship just 16 points behind Ferrari.