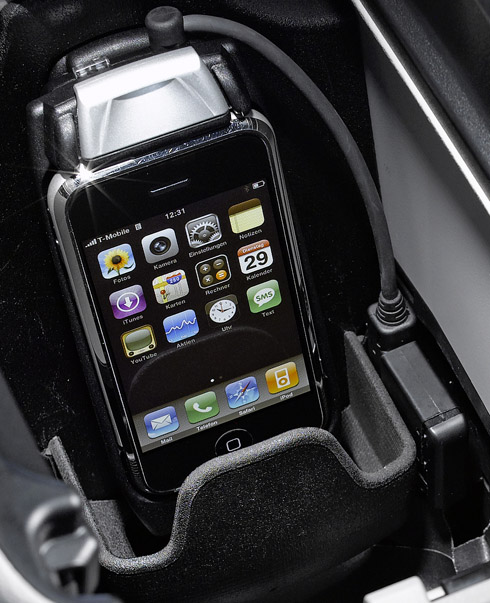 Mercedes has just released information about a new cradle that will now fully integrate your iPhone with your Mercedes. As you can see in the photo above this will include a full cradle designed specifically for the iPhone.
Currently, you can connect your iPhone to the vehicle via the iPod connector (Code 057) and control your music through the steering wheel controls. When you get a phone call, the music will stop and you can receive the call. With this new iPhone connector it looks like you'll be able to toggle between the two functions and see the data on the main command screen rather than just the multi-function dispaly. Also, the antenna connection will help to boost you phone's signal. Additionally, this cradle will provide charging and a secure mounting location for your iPhone.
The press release from Mercedes doesn't specifically say that this will only be available for 2009 or newer cars and the fact that they list the CLK as one of the cars it will work with makes me think that it might be available for several models going back a couple years. Mercedes also did not list this cradle being available for the GL, G or SLK Class models. A lot of this press release was specific to European cars and the option code does not show up in my dealer ordering guide yet. More info to come as the 2009's start to arrive in August!