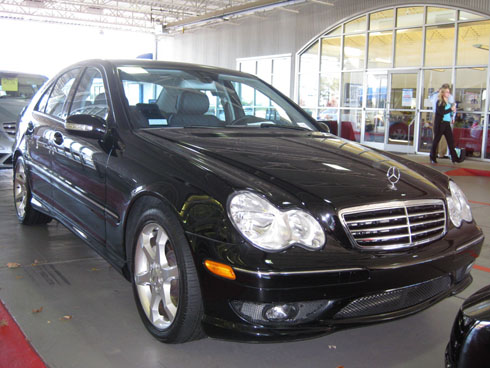 Atlanta Classic Cars has always prided itself on providing our customers with Mercedes-Benz loaner cars. We generally keep a fleet of about 150 cars for our clients to use. We have a few too many right now!
We are offering these 2007 C230's for sale at extremely low prices. These cars have been owned and maintained by Atlanta Classic Cars. They have clean Carfax reports and have just been fully detailed. The remainder of the factory warranty (originally 4 years, 50,000 miles) comes with the car but they are not Certified Pre-Owned vehicles.
If you have been looking for a great car, at a low price, this is it! Several of my clients have their kids driving C230's because they are so safe and yet still very fun to drive.
Please give me a call and let me know which vehicle would work for you!
| | | | |
| --- | --- | --- | --- |
| STOCK # | COLOR | MILES | PRICE |
| C798X | BLK/BLK | 26,063 | $20,700.00 |
| C805X | SILVER/ASH | 26,002 | $20,700.00 |
| C808X | SILVER/ASH | 24,421 | $20,700.00 |
| C773X | BLK/BLK | 24,069 | $20,700.00 |
| C797X | BLK/BLK | 24,066 | $20,700.00 |
| C801X | SILVER/ASH | 23,217 | $20,700.00 |
| C783X | OBLK/BLK | 22,962 | $21,900.00 |
| C799X | SILVER/ASH | 22,939 | $21,900.00 |
| C796X | SILVER/ASH | 22,458 | $21,900.00 |
| C807X | SILVER/ASH | 22,033 | $21,900.00 |
| C804X | BLK/BLK | 21,887 | $21,900.00 |
| C802X | SILVER/BLK | 20,858 | $22,900.00 |
| C787X | BLK/BLK | 20,281 | $22,900.00 |
| C794X | BLK/BLK | 19,368 | $23,900.00 |
| C809X | BLK/BLK | 18,948 | $23,900.00 |
| 25305YX | WHITE/BLK | 18,337 | $23,900.00 |