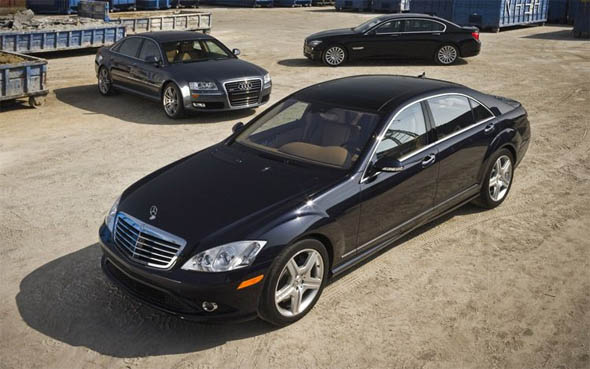 MotorTrend just did a review of the 2009 large luxury sedans. I am happy to report that the Mercedes came out on top!
"Mercedes' classic S-Class has been around since the 1955 model year, though the current, tenth-generation "W221″ first appeared on our shores in 2006. The S550 is bursting with innovative tech — including infra-red Night View Assist and Distronic Plus cruise control that in stop-and-go traffic can brake the car to a halt and then, as traffic begins moving again, accelerate automatically."

"The new 7 Series isn't a luxury sedan. It's an instruction manual on four wheels. That's not hyperbole: So complex and mechanically intimidating is this new machine, BMW has wisely incorporated the operating instructions for the myriad systems right into the on-board hard drive (you can summon pages using the iDrive controller). That's if, of course, you can figure out how to call up the manual first. …That's the 750Li in a nutshell. It's the Windows Vista of luxury cars."

"The Audi scored second-highest on lateral grip, yet its ride doesn't give up much (though it's no match for the creamy Benz). Straight-line speed is third by a good margin, but the Audi puts its power down so smoothly you likely won't mind."

"The A8L may have an edge for the sheer beauty of its cabin, but in almost every other respect the big Benz is unsurpassed. Ride quality, for instance, is brilliant — smooth, relaxed, unfazed by road imperfections. Yet, magically, the S550 also cranked out the highest skidpad grip, 0.89 g."

"…the Benz is enormous in the rear seat, with room to stretch the legs (and a giant trunk, too). But its seats are the best for support. You also grow to appreciate the pared-down, almost minimalistic cabin. This is the anti-7 Series, the luxury of simplicity."

"…the Benz equals the others in terms of gee-whiz features. Its advantage is that it doesn't depend on these goodies or substitute them for luxury."

"The Mercedes-Benz S550 does what a premium luxury sedan should: It makes you feel like a king."
You can read the full article here.