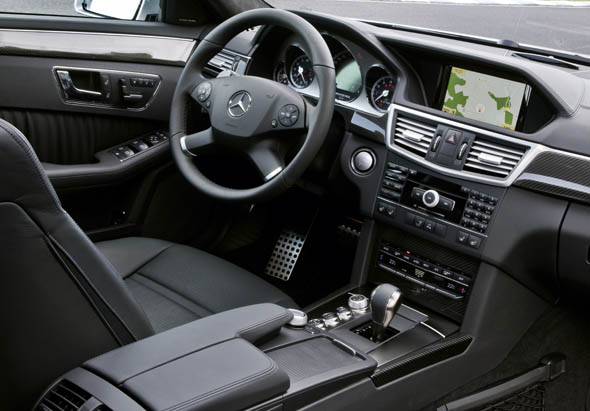 The 2010 E63 is scheduled for launch this month. The first batch has already been built and are waiting to be released to dealerships. There is a lot of anticipation for this vehicle. I was talking with a cutomer today about the inclusion of a console mounted shifter on the AMG version of the E-Class. Unlike the other 2010 E sedans that use the column mounted gear selector, the E63 AMG is using something they call the 'AMG DRIVE UNIT with center console-mounted E-SELECT lever.' This very similar to the setup in the new SLS AMG.
In the photo below you will see the rotary switch used to select 'C' (Controlled Efficiency), 'S' (Sport), 'S+' (Sport Plus), 'M' (Manual), and 'RS' (Race Start) drive modes. In Manual and Sport Plus the 7-speed will shift in only 100 milliseconds. This is 25 percent faster than just Sport. This is partially achieved through cutting the fuel and ignition for a brief time to reduce the load on the transmission during hard acceleration. Another plus to having the rotary control knob is that it allows you the leave your car in the sport mode without having the transmission default to 'C' every time you start the engine like the other 2010 E-class models do.
The 'Sport Off' button switches the ESP setting from ESP On, to ESP Sport, and ESP Off. I haven't seen any reviews yet that indicate if ESP off is truly off and I won't be testing that when the first one arrives at Atlanta Classic Cars.
Similar to previous E-Class AMG vehicles, the suspension adjustment button allows the driver to switch between Comfort, Sport, and Sport Plus modes to best suit their needs.
A new feature for the 2010 E63 is the AMG Race Start function that activated by the 'AMG' button. Pressing this button will bring up a menu that allows you the adjust 'configuration options' (I won't know what those are until we have one). To use Race Start they say you will have to stop the car, be in ESP Sport, press the brake, select 'RS' drive mode, and then pull the up shift lever once while fully pressing the gas and releasing the brakes. I'm assuming those last three parts don't happen at the same time since the system is supposed to automatically rev the engine to the ideal launch RPM. That is one I will have to test and report back.