Jesse –
What a fantastic experience we had with the European Delivery Program! Everything went very smoothly. We took the TGV from Paris to Stuttgart, which is a great town. The hotel is literally right across from the train station – very nice and very conveniently located. We used our taxi vouchers for the ride to the plant the next morning. Everyone at the delivery center was very nice, and it was so exciting to see them pull my car out onto the delivery floor! We had an amazing tour of the factory and a very nice lunch after that.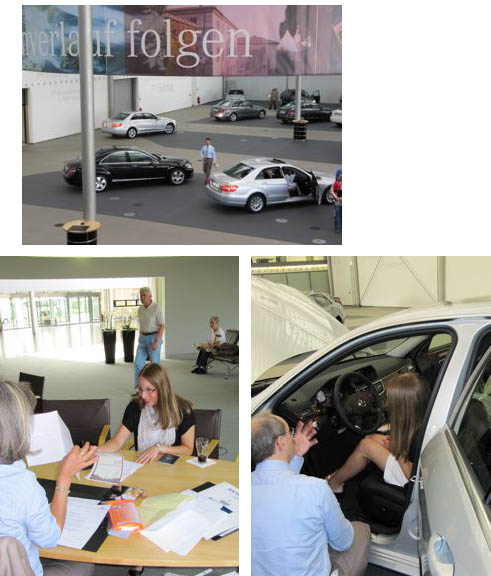 We really enjoyed having a car in Europe. It made it possible to see a lot of things we would never have seen otherwise, and we could go at our own pace. Driving in Europe was not too confusing or difficult.
When we got back to Paris to drop off the car, TT Auto was very easy to find. There are signs directing people right to their location inside the airport.
I'm attaching a few pictures. The first one shows them pulling my car onto the delivery floor. The second one shows me (very happily!) signing the papers. The third one shows what a great job the Mercedes employees do of teaching you about your new car. The next one shows us leaving a French chateau during the trip, and the last one is us dropping the car off at the airport.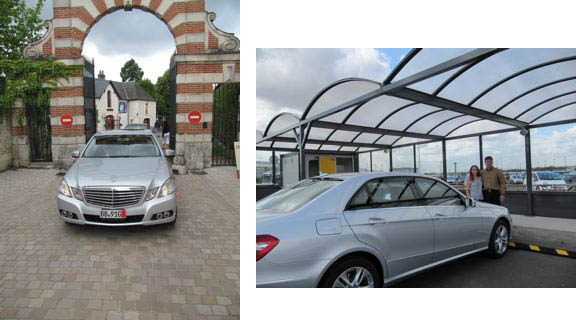 Before the end of the trip, we were already talking about "next time." We are so glad we did this!
Margot Ireson
Houston, TX