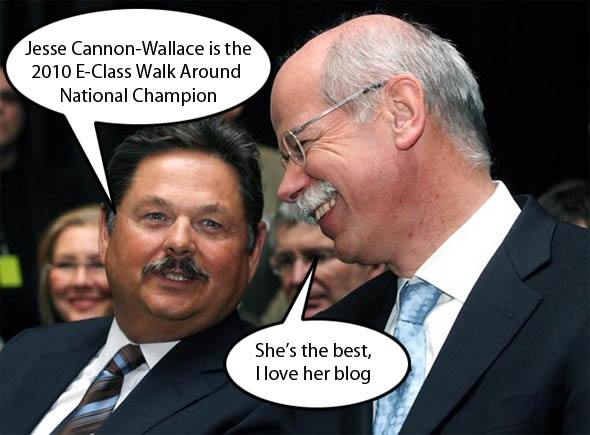 So…Dieter Zetsche wasn't actually there, but MBUSA President and CEO Ernst Lieb was one of the judges for my presentation!

This week I had the honor of representing the Southern Region and Atlanta Classic Cars in the 2010 E-Class Walk-Around National Finals in Denver. Two years ago
I won the C-Class Walk-Around Competition for the Southern Region
but they didn't have a national competition. This time I had to compete against every salesperson in the whole country. I won at the dealership, market, and regional levels on my way to the finals in Denver. My 15 minute presentation was tailored to a hypothetical client and highlighted many of the amazing innovations found in the 2010 E-Class Sedan. My 3 competitors and I were judged by the MBUSA Executive Management team and I was declared the National Champion!
I'll post some pictures and the video once I get them from the training department. Thank you to everyone who helped me prepare!
The competition was part of the National Dealer Meeting, so I was able to see (no cameras allowed) the new E-Class Cabriolet scheduled for release this spring and the SLS AMG! Both were spectacular and will be very successful!
If you want to learn all about the 2010 E-Class from the most knowledgeable salesperson in the whole United States please stop by Atlanta Classic Cars and pay me a visit.