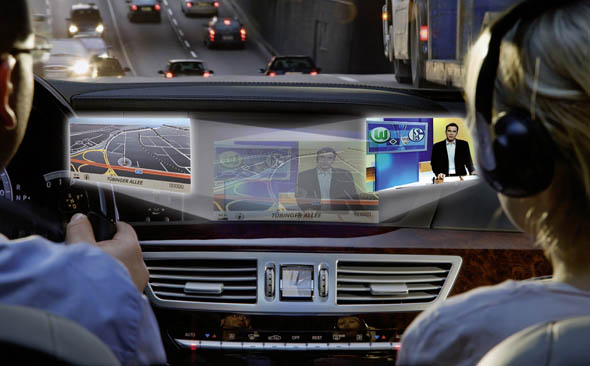 There has been rumor for months that the SPLITVIEW Front-Seat Entertainment system would be coming to the US market for the S and CL. It is official! It is now an orderable option. If you have an S or CL on order you may be able to add this option depending on its order status.
SPLITVIEW allows the driver and passenger to view two different sources on the same COMAND screen. The driver can control all of the normal COMAND functions like radio, navigation and phone while the passenger can use headphones and a remote to watch DVD video on the same screen!
State law prohibits this system on vehicles registered in AL, AZ, CO, IL, LA, MD, MA, NH, PA, VT, VA, WA, WV and WI. But we can have it in Georgia!
SPLITVIEW – Code 867 – $700 – Order now!
If you purchase a car with this option, your dealer's service department will still need to activate it for you once you have acknowledged that you understand the legal requirements for using it in your state.