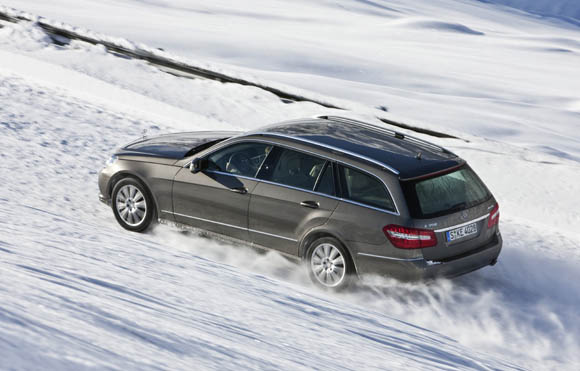 The 2011 Mercedes E350 4matic wagon is scheduled to arrive in the US this June. I think the wagon is a great vehicle for passengers and cargo. It is also such an iconic vehicle for Mercedes.
"Sure-footed four-corner traction: Standard. Height-adjustable rear AirMatic suspension for deep-snow ground clearance: Standard. Luggage-rack rails ready to accept your Thule ski-rack: Standard…Seating for seven (okay, five and two-halves): Standard. Iconic style and a hood ornament that commands respect from the apres-ski club valets: Standard. Could there be a more perfect vehicle than the new Mercedes E-Class wagon for driving up to Deer Valley, Whistler, or Hochgurgl, Austria?"

"With all systems on, the car faithfully cleaves to the driver's intended driving line — at least to the extent that physics can allow (which is impressively high when the various electromechanical traction assistants are abetted by a set of Continental ContiWinterContact footwear)."

"The seat is still comfortable, however, offering oodles of headroom and a panoramic view of the passing Alpine scenery. Another cool feature: once the rear doors have been opened and closed, a screen on the driver's information display indicates which (if any) seat belts have been fastened."

"The 2011 E350 4Matic wagon goes on sale in June, 2010 (all-wheel-drive sedans are available now) at a price that's yet to be determined, but if the price difference relative to the sedan stays roughly the same as it was on the W211 generation, it should drop to $54,500 or so."
You can read the full Motor Trend report Here.