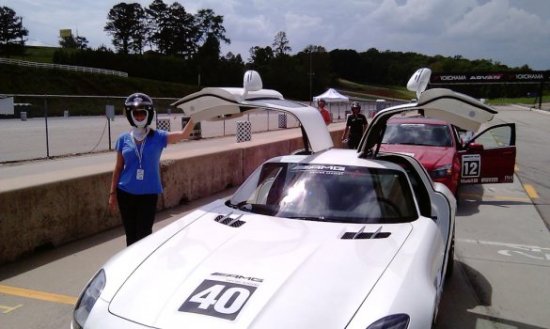 Since it was just released last week most people haven't even seen an SLS AMG in person. Last weekend at the AMG Driving Academy at Road Atlanta we were able to do way more then just look at it. They had 6 SLS AMGs for us to run on the track. I'll tell you that this is an amazing vehicle and almost 150 mph feels like nothing for this car.
We arrived at Road Atlanta early Sunday morning and were greeted by a parking lot full of AMGs. After breakfast and a quick driver meeting we broke into groups of 10 drivers and two instructors.
Our first exercise was practicing inducing understeer and oversteer in SL63s on the wet skidpad. With that much power, no ESP, and wet pavement it's pretty easy to put in a little too much throttle and spin all the way around.
Next, we switched to the SLS for high speed braking and corning exercises. For this we accelerated the SLS as fast as we could from our start point down the hill into turn 10a. Arriving at the corner at just over 80mph we worked through using full ABS braking to stop in the shortest distance, then braking with the correct modulation to stop at the apex of the corner, and then finally doing the turn 10a and 10b combination.
Our next activity was a slalom run and drag race in the E63. For the drag race portion we were racing another student full out down the pit lane but we had to figure out the braking point that would stop our car first within a set of cones without overshooting. Then we switched to the C63s for the high speed braking and avoidance drill. The video below is from one of my runs. They had the instructors radio wired to broadcast through our cars all day so they could give us tips and instructions. Our instructor was really fun.
After lunch it was time to run the full track. We started out in the E63. In groups of 2 or 3 we followed an instructor around the track. They placed cones around the track to show us the ideal turn-in, apex and track-out points. It was really humbling to see how fast the instructors could go while giving us instructions over the radio and watching us in their mirrors. Later they took us on a high speed taxi ride in a C63. Hopefully powersliding and using the curbs the way they did is covered in the two-day advanced class. Between taxi rides, they put us by ourselves in a CLK63 Black Series that was setup with cameras and data acquisition. I'll be sure to post my video in a few days when the send it to us.
Then it was time to run the track in the SLS. We had great luck and were in a group with just one other car meaning that we had more time in front (behind the instructor). They really let us push pretty hard. On the back straight we were above 140mph before braking for turn 10a. Our group was fast enough that we caught and passed the other half of our larger group that were also in the SLS.
We ended our day with a flat out timed run in the SLK55 on the autocross course. I put in a respectable time but didn't manage to win the Helmet or iPad that they gave as prizes. It was a great day and I highly recommend that you sign up for this event if you really want to see what Mercedes-Benz and AMG are capable of. To sign up just go to www.AMGacademy.com