Mercedes-Benz is conducting a voluntary recall on some 2010 and 2011 C and E-Classes to fix the power steering line connection fitting. The connection fitting on the high-pressure power steering line at the connection to the pump did not have sufficient torque applied during the production process. Loss of pressure at this connection fitting may, over time, result in the backing off of the connection fitting by no more than approximately .1-.3 mm, due to the positioning of the clamping plate. As a result of the loss of power steering fluid, owners may not have sufficient control of the vehicles in areas, such as parking where maximum power steering is required, and could lead to a vehicle crash.
The recalled vehicles are:
2010 C-Class
2010-2011 E-Class Coupe
2010-2011 E-Class Sedan
2010-2011 E-Class Cabriolet
with production dates from 06/09 through 02/10
You can check your production date on the B-pillar of the car on the drivers side. For example, this vehicle has a production date of  06/10.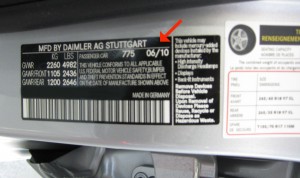 Owners should be notified by Mercedes-Benz shortly and the dealership will retorque the connection fitting and replace the O-ring as a precautionary measure for any vehicles that show signs of loosening.
You can contact Mercedes-Benz at 1-800-FOR-MERC with additional questions.