mbrace customers now have several new methods for remotely sending locations to the navigation system in their Mercedes-Benz.
mbrace Mobile Application: send current location, enter known address, send address from iPhone contacts, search for and send Points of Interest and request a friend's location with Drive2Friend feature.
mbrace Browser Toolbar Widget: highlight an address found on any webpage and send the address to your Mercedes-Benz.
Send2Benz.com: enter known address or use the Drive2Friend feature.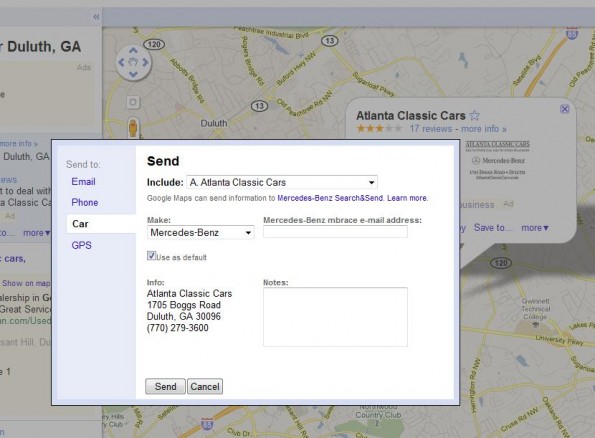 Search & Send: using Google Maps, the address is sent by entering the e-mail address associated with your mbrace account. Select More on the location's information tag. Then select send and Mercedes-Benz.  Complete the rest of the info and you're all set.
Now you can send address to your vehicle through the internet or your smart phone and they will be ready when you get in the car!  You can find all of the details as well as the downloads for the toolbar on the Mercedes-Benz mbrace website. Once you have an address sent to the car just press the i-button and the download will be complete. I tried it out in my 2011 E-Class and it worked like a charm!