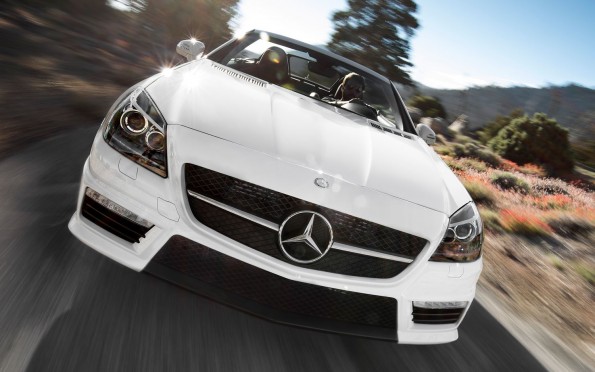 "But what I didn't know was just how freakishly quick. Ready? 0-60 happens in 4.2  seconds. 4.2! That's nearly supercar-quick, and this thing's a folding hardtop  with cylinder deactivation and start/stop. The quarter mile takes just 12.6  seconds, and you'll be moving at 113.3 mph through the traps -- a very  respectable clip."
"For one thing, if you're just going to let numbers totally influence your  car-buying, you should know that the SLK55 AMG is just as quick as the  V-12-powered Aston Martin Virage, such as the Madagascar Orange British beauty  we just tested. It had an asking price of $225,820, making the little white  Mercedes (with the big, bad V-8) an absolute bargain by comparison."

"The air scarf -- Mercedes-speak for a vent below the headrest that blows hot air  on the back of one's neck -- is my wife's favorite automotive innovation since  electric starters. I really do think Mercedes should make this a feature on  every car sold, simply because women love it."

"The SLK55 hungrily rushes towards corners; the brakes easily chomp into your  momentum; and the chassis and steering make quick, fun, controlled work of  corners."

Read the full article at MotorTrend online.