This is a very informative First Drive by Motor Trend as they had all three versions of the 2013 GL-Class available at the same time!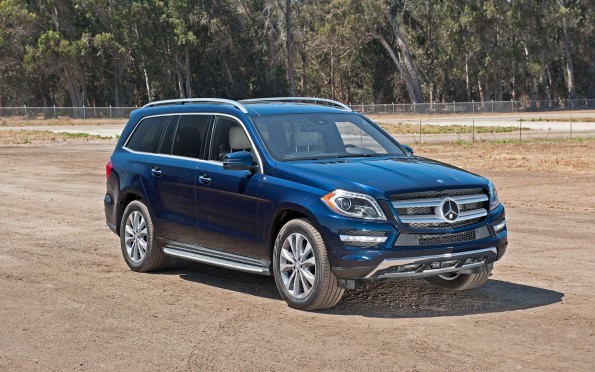 "It's already the best-selling three-row luxury SUV in the  U.S., and with the latest generation model, it's now the unquestioned  technological leader in its class."
"The new big Benz is also bursting with electronics that the competition can't  match, which mind everything from handling to safety to comfort."
"The Mercedes diesel has smooth and linear power delivery, maybe more important  it's quiet, and the lower frequency NVH from the diesel is less noticeable in  the cabin. It didn't feel slow at all until we got in the other two GLs."
"As other first tests have proven in the past, it is more about power density  than peak numbers. The two relatively small turbos on the Mercedes spool up  fast, making peak torque by 1500 RPM and delivering it all the way to 4000 RPM"
"The GL550 isn't just faster than the competition — it takes three-row SUV  acceleration to a new level of bonkers. I am a bit scared of what soccer moms  will be able to do in the upcoming 550-horsepower, 560-lb-ft GL63 AMG."
"The real magic, though — one that can't be expressed in numbers — is the ride  and handling mix. All three of our testers were equipped with Mercedes active  suspension, which includes constantly variable damping, air springs, and an  Active Roll Cornering System that utilizes a hydraulic coupling in both front  and rear anti-roll bars to control roll stiffness. In Comfort mode, the big GLs  are one of the best-riding SUVs on the road, with a ride very similar to the S-Class."
Read the Full Article at Motor Trend Online.