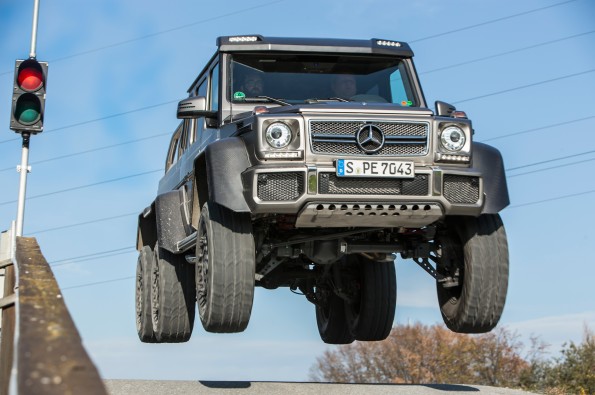 The 2014 Mercedes-Benz G63 AMG 6×6 is not coming to the US and I will probably never even lay eyes on one in person. Normally, I wouldn't mention it. But this Motor Trend First Drive Review does a great job of explaining the incredible technology while boggling at the ridiculousness of it.
"Turns out that the gargantuan 6×6 is actually hand-built on the same assembly line that produces every other G-Wagen.  A workforce 1500 strong recently added a second shift because G-Wagen sales are through the roof, with 2012 the stout off-roader/military vehicle's best full sales year since production started in 1979."
"At current exchange  rates, the 6×6 costs a little less than $625,000. Take out the 19 percent European value-added tax and you're still looking at around $525K. (Sadly, Mercedes isn't selling the 6×6 in the States, or the V-12 G65 — yet.) The 6×6 weighs a touch more than 9000 pounds (up from 5876 for our last standard G63), yet Mercedes claims this monster can hit 60 mph in fewer than 8 seconds."
"Like for real, jumping a 9000-pound, six-wheeled pickup truck with me grinning like an idiot from the passenger seat. Since we had our usual crew of photo and video people ("Good, but do it once more, please…"), Erwin jumped with the 6×6 again and again and again — I neglected to actually count, but I'd guess 20 jumps is pretty accurate. Then he drove through four feet of water, and then started bounding up boulders at unbelievable angles. Then he let me drive the 6×6. Which, according to Mercedes, makes me the first journalist to be given the thrill."
"If you're familiar with portal axles, you'll feel  just a whiff of the familiar rocking sensation. Then the 536 hp and 561 lb-ft of torque kick in and you're off like a hippopotamus over a waterfall."
"I should probably mention that the 6×6 has five differentials. This gets a little tricky, but it's worth explaining…"
"Inexplicably, there's no backup camera. Now, I realize complaining about a lack of a backup camera is similar to what my predecessors did in the 1970s and '80s when they'd moan about the lack of rear visibility in a Lamborghini Countach…I think 6×6 owners will develop the technique of just running over the Lamborghini parked behind them. When I asked Axel Harries why no backup camera, he just put his head down and started laughing."
"Every time I saw it, I turned into a 12-year-old boy, simply giddy with each glimpse. I think the lucky, wealthy folks who purchase AMG's biggest, most expensive toy will experience the same sense of childlike huzzah and wonderment every time they step into their garage."
Read the full article at Motor Trend online.