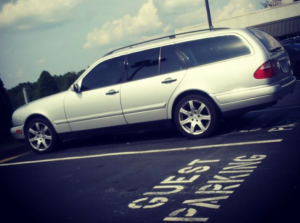 I am a wagon fan. Always have been. We had numerous Volvo wagons when I was a kid – always called The Brick – and the classic E-Class wagons – called the Cool Bus. There is something special about having a row of seats to yourself.
It turns out I am not the only fan! US sales of the E350 wagon have been increasing! As a nod to this small group of wagon enthusiasts, Automobile Magazine has recently published quite a few articles about the E350 wagon, the E63 AMG wagon and the non-US CLS-Class Shooting Brake. All of these articles were written by the same author, Marc Nordeloos.
From: Hot Euro Wagons: Jaguar XFR-S vs. Mercedes CLS63 AMG vs. Audi RS6
"The brilliance of the Mercedes-Benz CLS63 AMG Shooting Brake is that it  offers nearly all of the comfort of the Audi while being far more special to drive quickly."
"It's important to remember that the CLS Shooting Brake is a four-door "coupe  wagon" and not a traditional station wagon. Still, if cargo capacity is not one  of your top priorities, the lovely design will far outweigh any of these  complaints."
From: Interview: Mercedes-Benz Wagon Master Joe Stauble
"There is something special and unique about an E-Class Estate. Customers  recognize this, and it draws them to this product."
"We have loyal customers who really appreciate the cargo capacity and the driving  dynamics over an SUV. I think there is definitely a niche that would warrant  future variants."
From: The Ultimate Winter Rides
"When you're done being a rally star in your near-600 hp station wagon, slip the  transmission back into Comfort mode, set the suspension to the softest setting,  and click both the heated and massaging seat buttons. You'll be hard pressed to  beat the comfort in an S-Class. Add a set of rubber winter mats, and it's as if  the Mercedes-Benz E63 AMG wagon was destined to effortlessly plug through  winter."
From: Cars I'd Buy With My Own Money – Part 2 (the Over-$40,000 Edition)
"Of all the cars on the list, this is the one I actually do own."
"There's just something about a Mercedes that impresses when you live with it.  You don't fully appreciate this during a brief test drive. I love the fact that  there are three rows of seating, allowing car-pooling without resorting to an  SUV. Plus, who doesn't love a rear-facing third row seat?"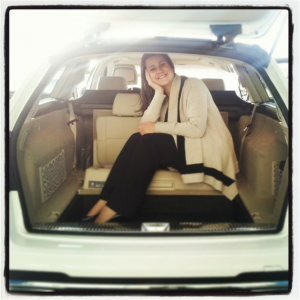 That's it! The Rear Facing third row. I've obviously outgrown it but I have such fond memories of sitting back there getting big rigs to honk, making faces at other kids and road-tripping like a queen ensconced in a carriage!
So, Marc and I are clearly huge wagon fans…how about you?