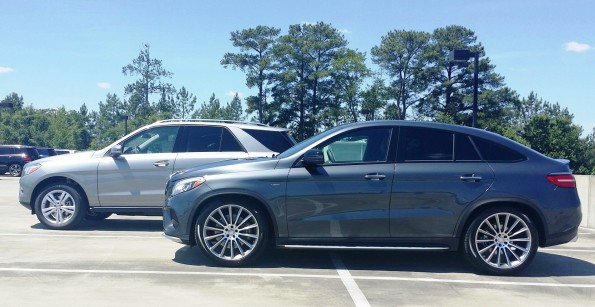 For 2016 Mercedes-Benz will have two versions of the mid-sized SUV. The GLE-Class SUV and Coupe. Pictured above is the current ML-Class and the GLE-coupe. Similar size, but very different styling.
This is a mid-cycle refresh to the current M-Class. There are upgrades to the interior and exterior but it will be very recognizable as the traditional SUV. It will be available in many variants: GLE300d, GLE350, GLE400, GLE550e, GLE63 AMG
This is a whole new version of the mid-size SUV. This GLE had coupe-like lines, AMG styling and is meant to stand out. The GLE-Coupe will only be available as the GLE450 AMG Sport and the GLE63 AMG.
Does that help? There seems to be a lot of confusion about why we are turning our ML into a coupe! We aren't…there are two!