I attended training for the 2017 Mercedes-Benz E300 yesterday. It is not anticipated to hit US showrooms until later this summer so it was great to get a sneak peek!
I saw a variety of paints and interiors, although all were sport models. Here is a video of the test drive cars:
I had several sections of training on the advanced technology, build quality and competitive comparisons.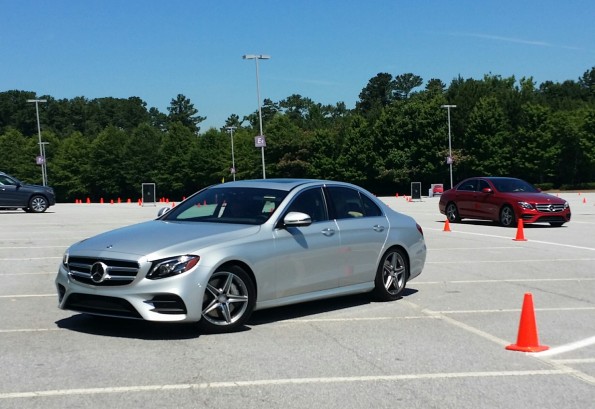 I was able to test the Parking Pilot, Active Brake Assist, and Distance Pilot Distronic on a closed course. In short, the car is better a recognizing things in the road and helping you to stop on time. Also, it parks itself much faster!
I went for a nice long drive in the E300 on both highways and city streets to feel the engine, new 9-speed transmission and overall feel. The 241 horsepower and 279 lb/ft or torque was plenty for me. It is actually a touch faster than the outgoing V6 and significantly more efficient. The 9-speed erases any turbo lag and the overall build quality makes it quieter and more luxurious than ever!
The interior is beautiful. There are lots of new little details that make the E300 more plush and elegant than the outgoing model. There is enough change to be new and exciting but enough similarity that I could figure out the controls easily. I think with a day of practice this E300 will make the systems in the old E feel old.
Overall the all-new Mercedes-Benz E300 will be a great addition to the line-up and I look forward to having it for sale soon! Look for more videos coming today!