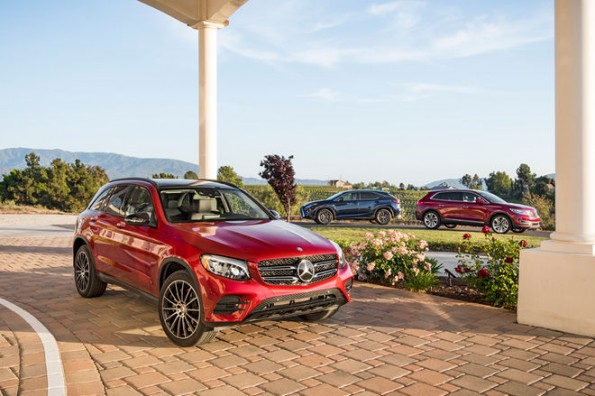 Motor Trend took these mid-size SUVs for a drive through wine country and guess who won?!
"The execution is also top-notch. Every material in the GLC300 feels authentic. Wood is wood, metal is metal, and even the faux leather feels more convincing than the Lincoln's true leather. Every button, dial, and switch is designed and built to a standard rather than to a price. Mercedes-Benz has set the benchmark with the GLC300's interior design and execution."
"Although Mercedes' COMAND might not be cutting-edge in terms of technology and/or screen size, at least there are multiple/redundant ways in, and it's easy to navigate through its features using both hard buttons on the center stack and the knob/touchpad controller. Its graphics are not only sophisticated but also useful for intuitively accessing everything from vehicle preferences to manually tuning radio stations. No gimmicks, no frustrations, no "it's just the way you have to do it." Rather, it just worked on a level above the others."
"The GLC is larger and improved in every measure compared to the GLK, and its handsome exterior, impeccable interior, and class-leading dynamics and efficiency only serve to underscore the value it also contains. Who would've guessed that a Mercedes-Benz would emerge as the least expensive, least powerful, lightest, most sophisticated, most engaging to drive, most fuel-efficient, most attractive, and thus most desirable player in this group? The GLC300 takes the gold medal. Keep your eye on this one for next year's SUV of the Year."
Thanks Lloyd for pointing this article out to me! Glad your GLC won!