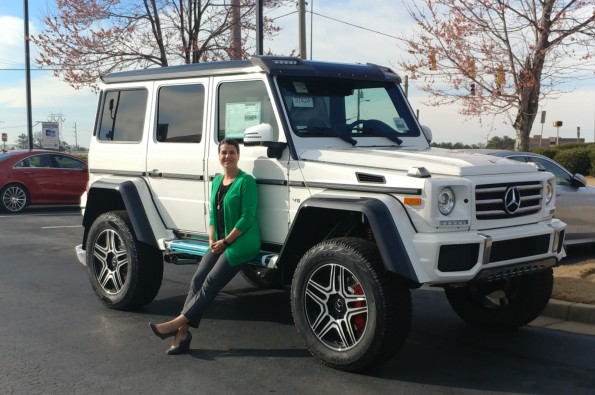 The iconic G-Class now has a monstrous brother! The 4×4² stopped by today for a moment and I took all of the pictures! This beast is essentialy the famous G63 6×6 minus one axel. It is tall, looming, beefy, wide, and very cool.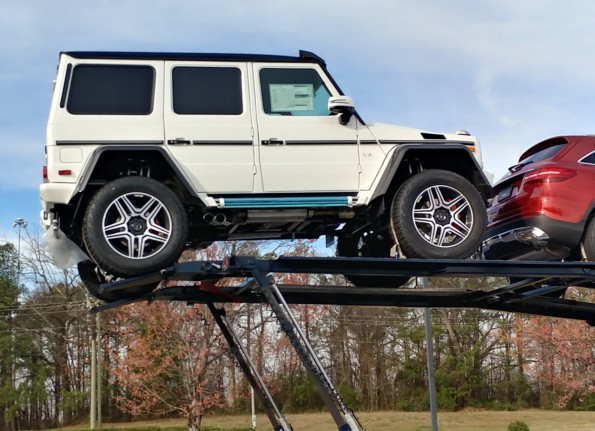 This particular vehicle is destined for another dealership but it was briefly unloaded and it is amazing! I saw it pull in and my first though was "Why is there no wheel on the back?" My second though was "it's gigantic!" and then I realized that it was the first 4×4² that I had seen in real life!
This vehicle uses the series production G-Class body, variable chassis and all-wheel drive powertrain including portal axels from the G63 6×6 to create a unique off roader with so much presence!  
There are almost no choices to be made when ordering the 4×4². Paint color is the only variable. All of the interiors will be the Black Dinamica with white contrast stitching. Can you see the diamond quilting on the doors and seat inserts? The trim is carbon fiber both on the inside and outside of the vehicle. Most of the advertising has featured the Electric Beam yellow paint. This one opted for the more subdued designo Mystic White.
The extra-wide stance is intimidating! Look at the extra carbon fiber width added to the fender flares to accommodate the giant wheels and tires! The front roof spoiler with lights is almost exactly the same as that of the G63 6×6. The sticker quoted fuel economy at 11 mpg for both city and highway.
I can't find the details for this vehicle on MBUSA.com but here is a link to the European specs. This vehicle is now available for sale in the US with a base price of $225,000. I am expecting my first unit in April/May.
Here is a video of the formerly big G550 being unloaded from under the enormous G550 4×4². Enjoy!