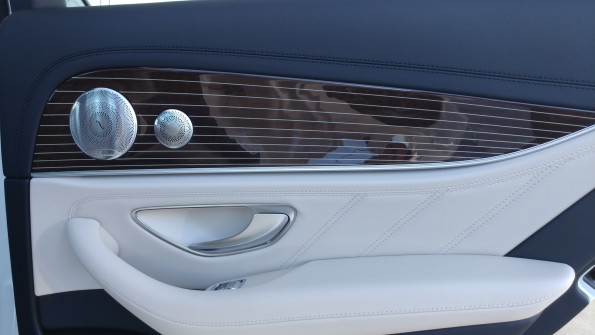 The 2017 Mercedes-Benz E-Class started arriving earlier this year but we've only been getting the "normal" configurations. These are good looking cars…but we all know what Burl Walnut Wood looks like! Some of the ordered cars have recently started to arrive with exciting colors and options!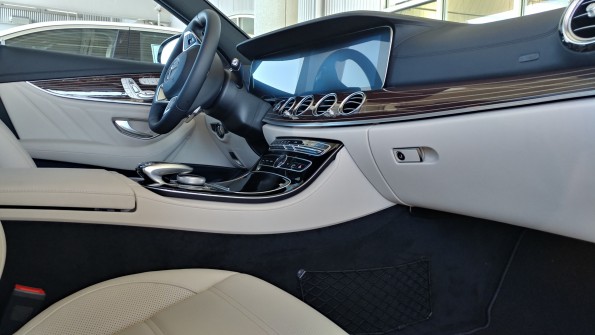 This Mercedes-AMG E43 features a new trim – the designo (say duh-zin-yo) Magnolia Flowing Lines Trim with the Macchiato Beige Leather. What a beauty! I have seen the flowing lines trim in the S-Class before and it really compliments the sweeping lines of the dashboard. It also looks like art deco furniture detailing to me and I love it! The Flowing Lines look is also available in Piano Black rather than the Magnolia which would be incredibly dramatic!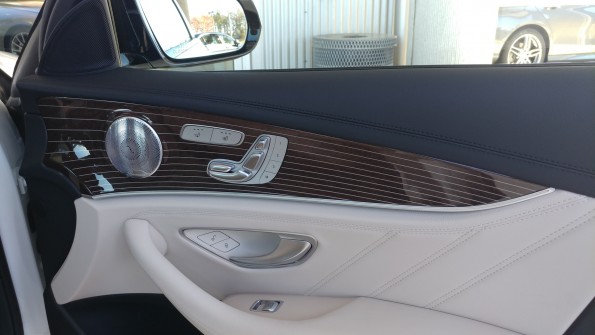 The Macchiato Leather is lighter than Silk Beige but not as light as Porcelain. Having it paired with the dark carpet is a life saver in the maintenance department! I often kick the bottom of the door with my shoes as I exit the vehicle and a light door is my nemesis. This is a good combination of light seats with black accents.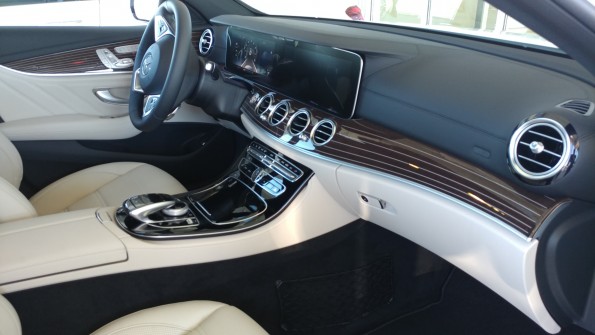 The center console in the 2017 E-Class will always be the high gloss piano lacquer. That is the area from the central command controller, around the cupholders, up to the air conditioning controls. If you like your interior more matchy-matchy then the Paino Lacquer Flowing Lines would be the way to go! Also, you will need a small microfiber cloth to keep the center console dust free.
Look at that detail! You can see the wood grain of the Magnolia and every perfect join on the Flowing Lines. I can't tell what material the Flowing Lines are made of. Is it metal? Wood? Plastic? Maybe someone out there knows? Please do e-mail me if you know!
Try something different with your next order! The designo Flowing Lines Wood trim would be an attractive addition to any new Mercedes-Benz!