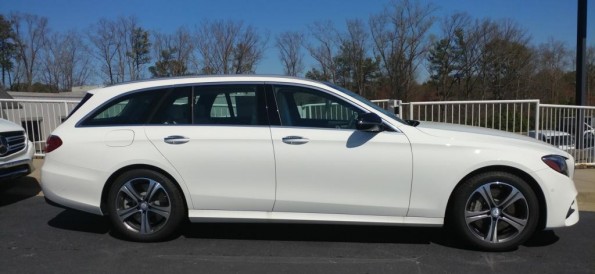 The redesigned 2017 Mercedes-Benz E400 Wagon is here! This is the first one to arrive at Atlanta Classic Cars and I stalked it coming off of the transporter. I have always been a big wagon fan! I am so glad that Mercedes-Benz continues to bring them to the US, even though it is a bit of a niche vehicle! This version has a little bit of a shooting brake profile, don't you think? Very sporty!
The vehicle has not even been unwrapped! The interior is exactly the same as the E-Sedan (except for the third-row seat). It has a great sweep across the dash and feels very spacious. This particular vehicle has the Macchiato Beige/Black Leather and Burl Walnut wood trim. Classic Wagon!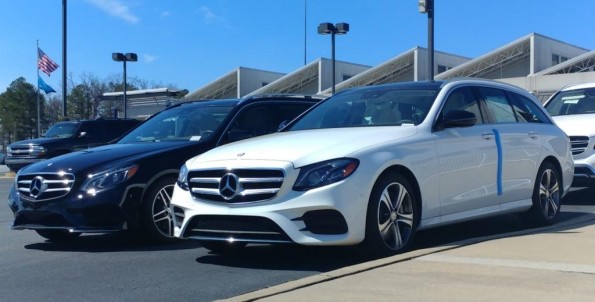 It just so happens that I was checking in a 2016 E350 wagon for a CPO inspection at the same time and had a chance to park them next to each other. The headlamp shape and lower bumper louvers are the most obvious difference from the front of the car. The 2018 wagon is still available in the Luxury (Elegance) trim. That version would have the stand up star and slatted grille. I have one of those on the way too!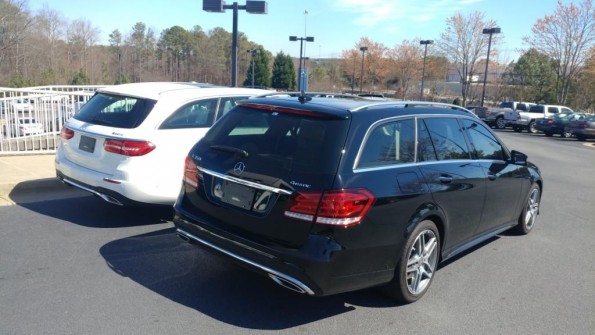 From the rear of the vehicle the tail lamp shape is an easy tell. The 2018 also slopes off quite a bit more. That's where the shooting brake profile comes in. The third row seat is small but still there! It is the perfect size for seven to ten year olds. They need to be big  enough be out of a car seat but under five feet tall. That's my official opinion.
 I'll try to get these two together again later in the week for a video comparison. If there is anything in particular you want to see please send me an e-mail. jcw@atlantaclassiccars.com