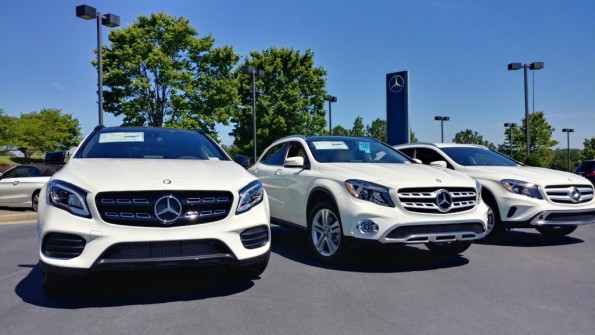 Our first 2018 Mercedes-Benz GLAs have arrived with a facelift! The changes from the 2017 model are not dramatic but they are obvious when you park them side-by-side.
The photo above features, from left to right, the 2018 GLA250 Ice edition, 2018 GLA250 non-sport, and a 2017 GLA250 from my loaner car fleet for comparison.
What's New:
8″ display screen standard, no Multimedia required
New Instrument Cluster design
Front and Rear Bumpers redesigned
New Wheel designs
Standard Rear View Camera
Sail Pattern trim replaces aluminum
Parking Assist Package Available
LED replaces bi-Xenon in headlamp upgrade
Handsfree access added to Premium 1
Android Auto available, in addition to Apply CarPlay
harmon/kardon moved to stand-alone option from Premium 1
New Paint: Canyon Beige (Goldish orange-y in pictures)
Ice Edition – 400 units – See video for details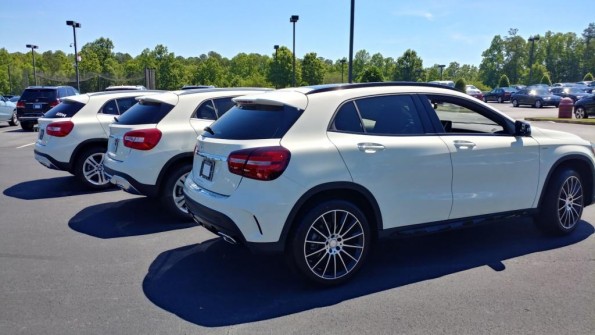 From the rear of the vehicle you can see that the nearest vehicle, 2018 GLA250 Ice Edition, has the AMG sportline exterior with additional bumper elements. It also has the night package with black accents on the wheels, roof rails, window trim and mirrors.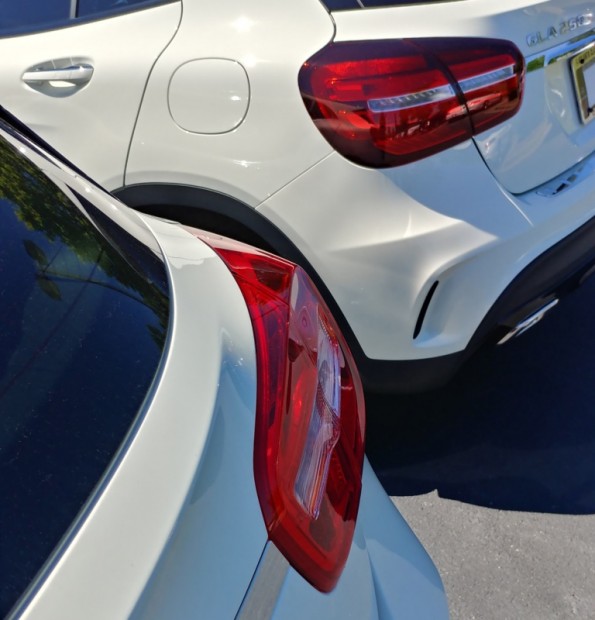 The tail lamps on the Ice Edition are different from the other 2018 models as well but I cannot find any mention of that in the ordering guide. They are more rounded, darker and have the stardust effect like the 2017 E-Class. When a few more GLAs come in I should be able to tell if it is unique to the Ice Edition, the AMG sportline cars or some other item. If anyone knows, send me an e-mail!
I also made a video for comparison purposes. I think the white cars do a good job of showing differences. Please subscribe to my YouTube Channel if you like it!
This is the first facelift for the GLA, which was introduced in the US for 2015. It should stay like this for another three years and then will likely get a full redesign. I hope to see the first 2018 GLA45 soon!