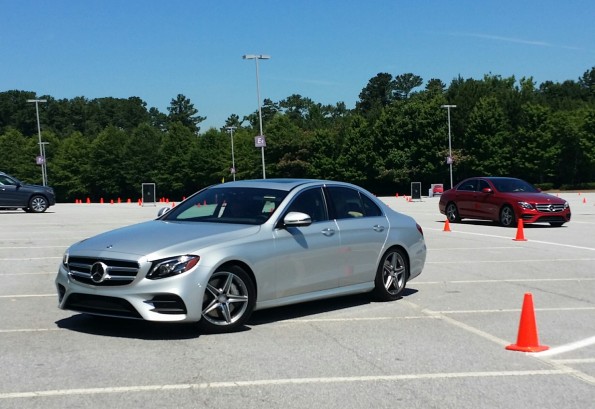 The redesigned 2017 Mercedes-Benz E-Class has been heralded as the most technologically advanced vehicles available! New safety features, steering wheel touchpads, Car to X communication and more! The redesign made it more spacious than the previous generation. The interior is beautiful, with a very quiet cabin and high end surfaces. If there was one fault with the car it was the limited engine choices.
The 4-cylinder engine in the E300 is fantastic. It is plenty of power for daily driving and the 9-speed transmission gives it great acceleration. It is smooth, quiet and has excellent fuel economy! I have been on many, many test drives when people did not realize that that the E300 was a 4-cylinder at all. However, it is sometimes hard to convince a V6 driver that the 4-cylinder will be adequate.
The Mercedes-AMG E43 is also a great choice. The AMG-enhanced V6 delivers more power and a more aggressive feel. It has a sporty ride with amazing handling characteristics. For a client looking for a powerful and sporty E-Class this is a good option. However, it is aimed more at performance than luxury. We lacked a middle ground – more power, less sport.
Well, for 2018 Mercedes-Benz USA is correcting this issue! The 2018 E400 4matic sedan will be arriving in the 4th quarter of 2017! Here is what I know:
Starts at $58,900
Unique standard 18" wheel design
4MATIC all-wheel drive is standard
3.0 liter biturbo V6 engine delivers
329hp and 354 lb-ft of torque
9G-TRONIC Transmission
Positioned between the E300 and the AMG E43
Our first 2018 E400 sedans are currently in production and should arrive in the US soon. There are still productions slots available for customization that will be ready before the end of the year. So, if you have been holding off on the E-Class, now would be a great time to take another look!