Picking up your new Mercedes-Benz at the factory in Germany is an amazing experience! Touring the factory, meeting the experts that assemble the cars and seeing your new car for the first time where it was built are experiences you should not miss! Once you have your new car you now have two weeks of complimentary insurance to enjoy. What should you do with it?
Mercedes-Benz offers several travel packages that guide you along! For $2000 you can add a 4-6 night adventure, curated by Mercedes-Benz! I have done this twice and thought the value was extraordinary! The Travel Department has just introduced several new options that look amazing! You can use this as a starting point for a longer trip, add extra days along the way or modify it to suit your plans. Every hotel I have ever stayed at with Mercedes-Benz has been top notch!
You can see all of the details on the new Euro Delivery Travel Site here. You can visit the European Delivery Website here (watch the video – you might know someone!). You can see information from my trips to Germany here.
I can help you book your European Delivery experience no matter where you live in the US! Get in touch!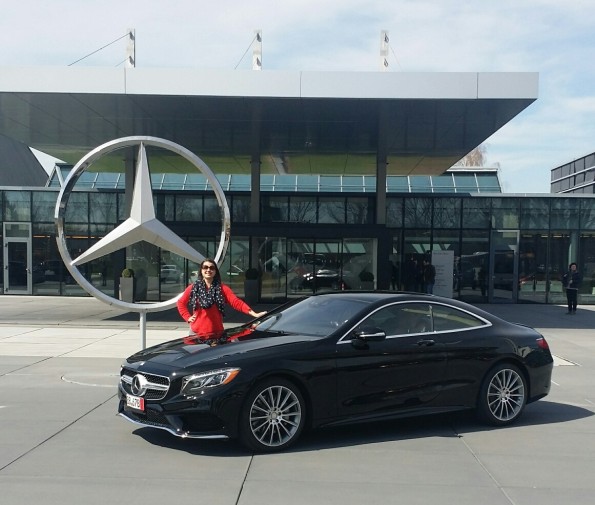 Standard Package
One (1) night in Stuttgart or Bremen, Germany (for one or two persons, including breakfast); Additional nights will be charged to your credit card.  (Pick up and drop off points)
Alps Rally & Alsace Region
(in addition to standard package)
Five (5) nights in total (two persons, including breakfast)
One (1) night in Stuttgart
One (1) night in Strasbourg
Two (2) nights in Interlaken
One (1) night Geneva  (drop off point)
Black Forest Package
(in addition to standard package)
Five (5) nights in total (two persons, including breakfast)
One (1) night in Stuttgart
One (1) night in Baiersbronn
Two (2) nights Hinterzarten
One (1) night Munich  (drop off point)
Bremen, Prague & Berlin
(in addition to standard package)
Five (5) nights in total (two persons, including breakfast)
One (1) night in Bremen
Two (2) nights in Prague
Two (2) nights in Berlin (drop off point)
French Riviera Package
(in addition to standard package)
Five (5) nights in total (two persons, including breakfast)
One (1) night in Stuttgart
One (1) night in Davos
One (1) night in Lake Como
Two (2) nights in Nice (drop off point)
Kings, Castles & Mozart Package
(in addition to standard package)
Five (5) nights in total (two persons, including breakfast)
One (1) night in Stuttgart
One (1) night in Hohenschwangau
Two (2) nights Salzburg
One (1) night Munich  (drop off point)
Provence Package
(in addition to standard package) 
Five (5) nights in total (two persons, including breakfast)
One (1) night in Stuttgart
One (1) night in Montreux
One (1) night in Grenoble
One (1) night in Cannes
One (1) night in Nice (drop off point)
Slopes and Seaside in Slovenia
(in addition to standard package)
Six (6) nights in total (two persons, including breakfast)
One (1) night in Stuttgart
One (1) night in Munich
One (1) night in Salzburg
One (1) night in Maribor or Bled Lake
One (1) night in Ljubljana
One (1) night in Portoroz
Drop off location in Koper
Day trip ferry to Venice (optional)