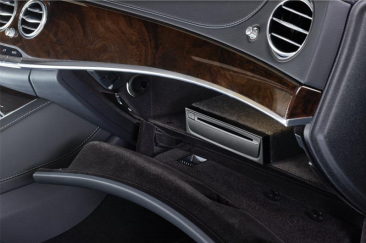 So, you drive one of the most technologically advanced vehicles in the world but you really like listening to CDs? I have heard this a surprising number of times since the 2017 E300 arrived without a CD player and the 2018 S-Class was not far behind. I had this same issue when the 2003 E-Class was the first car to arrive without a tape deck. I wonder what comes after Bluetooth streaming? Usually once all of my clients become comfortable with a technology is about the time the next new things arrives to shake it up!
Mercedes heard you still listen to CDs and has come up with a solution so you can be a little old-school. I have not seen this in person but it looks pretty simple and would not interfere with the scent diffuser. I bet if your got really crafty you could fit an 8-track in there too. 🙂
The accessories team is pleased to announce the availability of the NEW CD player retrofit suitable for select E-Class and S-Class vehicles. The retrofit accessory CD player supports all current music formats and is fully integrated into the operating logic of the vehicle. Artist, album, title and cover art image are shown on the vehicles central display and the CD drive is discreetly installed in the glove compartment to protect it from prying eyes.
CD ripping on to the head unit music register is not possible (this feature is not available in NTG5.5)

Single CD drive only

Functions: play, pause, stop, search forward/backward, track increment/decrement, direct track selection (Track "n"), disk check, CD-Text 

Supported formats: CD-DA, WAVE, CD-R, CR-RW, mp3, m4a, FLAC

Part Numbers: A222 820 6306, A222 826 1300, A213 820 7802, A000 983 3800
The cost should be around $300 for the parts, plus installation. Please contact your dealership parts department to make sure they are in stock or orderable.