A new color has arrived! Mojave Silver Metallic (Color Code 859) is available on quite a few Mercedes-Benz models for 2019. This GLC300 is the first one that I have seen in person. I know we have an E400 cabriolet due in this color soon. It is not necessarily replacing any specific color but adding something new to the spectrum.
Colors are obviously very difficult to capture accurately and can be seen quite differently by different people both in person and online. I feel like these pictures are accurate to what I see in person but maybe your screen is brighter or darker! Let me try to describe it.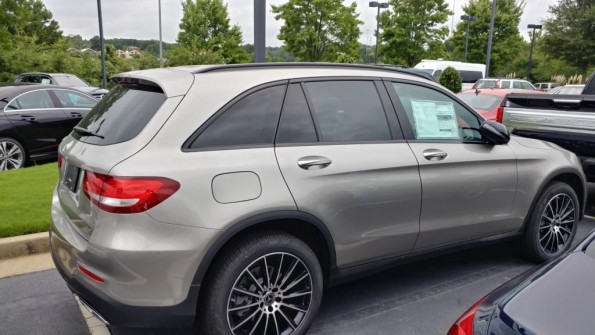 My first thought was that it was a slightly more modern Pewter (color code 723) which was our most popular silver back in the early 2000's. Someone else said it reminded them of Smoke Silver which preceded Pewter. It is not nearly as gold as Pearl Beige but is a warm color. It is a touch lighter than Palladium Silver without any of the blue tones. Is this working? Can I describe a color by referencing a bunch of other colors?
It is very overcast today which is making it a little darker. If the sun were out it would be a little more silver and a little less taupe. I also think the black accents from the Night Package and the black interior make it look different than if it had silver accents or a silk beige interior.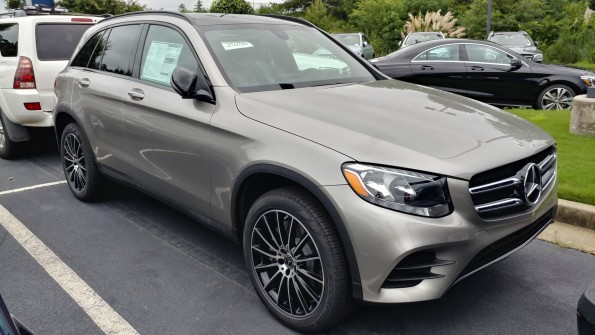 I will try to park it with a few other vehicles in the same color family for comparison. I think I'll wait until the sun comes out to get that grouping done. This is going to be a very popular color across our line-up. My customers really missed Pewter when it went away. I look forward to seeing more examples.