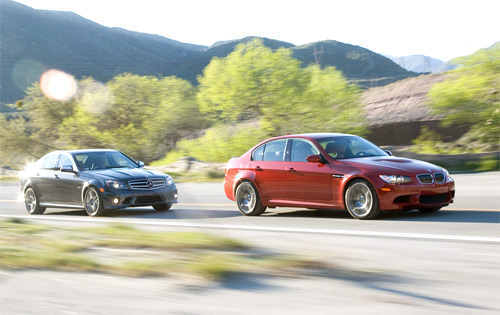 "The M3's V8 is as swift and sharp as a katana sword, while the C63's V8 punches like a set of brass knuckles. And whereas the M3 sounds best when it's being caned ruthlessly, the C63 barks like a beast when you simply twist the key and start it."

"Despite boasting similar power-to-weight ratios, the C63 runs notably quicker than the M3 sedan in a straight line. It clicks off the quarter-mile in 12.5 seconds at113.7 mph, compared to the BMW's 12.9 seconds at 111.1 mph, an advantage of 0.4second and 2.6 mph. Likewise, 60 mph comes up in 4.1 seconds in the Benz and 4.5seconds in the Bimmer."

"But if powersliding hooliganism is more your style, then the C63 is your choice, since it'll sustain a tail-out attitude around a corner until the steel cords show through the rear tires."

"The 2008 Mercedes-Benz C63 AMG also crackles with character, something the M3 could use a bit more of."
A lot of people are comparing the Mercedes-Benz C63 to the BMW M3. Everyone wants to drive this new car! For a long time, the M3 has been the top of the heap in the small and sporty category. Most reviewers are acknowledging that the M3 is still a great car, very balanced and capable, but the consensus is that the C63 is more fun! Take a look at the full review from Edmunds. If you are interested in ordering a C63 or being notified if one become available, please let me know!