Now that the 2009 vehicles have arrived, I have had a chance to spend some time with each of them and I have noticed some of the quirks that show up every year. These are little changes that aren't really announced but can be a bit of a shock to those of us to take the accessories very seriously.
My Biggest Loss –
The US has a new law that requires all window roll UP functions to be controlled by a button that you have to hold in the UP position. So, that means that tunnel mode, where you hold DOWN the recirculate button and all of the windows close, is out. So is remote roll up, where you hold the lock button on the key DOWN, to roll up all the windows at once. This was a very convenient function on the lot when I am in and out of cars all day, trying to keep them cool. However, it is being slowly phased out so some cars still work this way and some don't!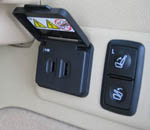 2009 ML, GL, R-Class
Love AC power plug in the rear cargo area! Part of the Premium 1 Package and a great addition!
The new Rear DVD system can now play 2 DVD's at the same time – one can be loaded in the DVD slot in the front of the car and one in the backseat!

The 4 GB Music Register can store music that you have loaded onto the SD card or burned to a CD or DVD. It cannot store commercially purchased CDs. This is exactly opposite of the C-Class music register. Strange.
ML & GL have bigger mirrors for 2009. This had been a complaint on the previous years.

2009 C-Class
Compass in the rearview mirror is a nice addition. (Premium 1)
Memory seats are absolutely perfect!
Mocha/Almond interior is quite different from Savannah/Cashmere. I like that the Mocha/Almond is more neutral/less basketball colored. Very pretty!
Music Register is upped to 6 GB.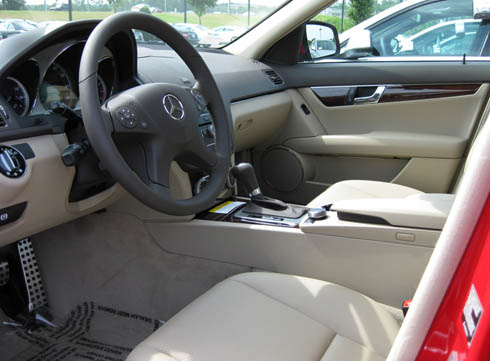 2009 S and CL-Class
Bluetooth adaptor can be ordered with the vehicle for $200 less than it can be purchased at the dealership.
2009 E-Class
No charge 321 Sport Package on the E350 Sport is an amazing value. Wheels, bumpers, shift paddles for $0! Last year it was more than $2000! I know because I bought one… Be sure to order the Pano roof. My car is a white sport package with the Pano roof and it's hot!
New navigation system has Bluetooth built in. That's another $525 savings.
If I find any more I'll keep you posted!