The Mercedes-Benz Roadside Assistance Program has always been a wonderful convenience for our owners. Introduced in 1982 to the US market, this program has grown to handle more than 900,000 roadside calls every year! By using Mercedes-Benz vehicles, employees and parts to respond to these calls Mercedes-Benz is providing industry leading quality!
There have always been 3 Sign and Drive services:
Flat Tire – put on spare tire or fill flat with TIREFIT
Dead Battery- jump start
Out of Gas – provide a small quantity of fuel
Additional Roadside Services include:
Towing for problems covered under warranty
Trip Interruption to defray costs if repairs are needed more than 300 miles from home
Trip Routing
These services are complimentary to our owners by dialing 1 800 FOR MERC, or using the mbrace or tele-aid systems.
If you purchased your Mercedes-Benz vehicle before 1/4/11 the program will stay if effect, the same as it has always been, for the current owner.
Under the new program, these services are unchanged during the warranty period. Additionally, towing will be complimentary for all eligible customers both in and out of warranty for both service and collision needs. To accommodate these enhancements Mercedes-Benz has added in eligibility requirements once you are out of the warranty period.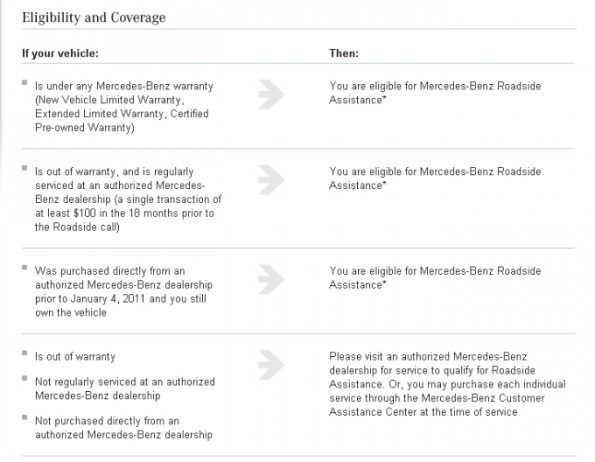 We'll always be there to help when you need it. If you meet the eligibility requirements, the service will be complimentary. If you don't, then you can simply pay for the services provided. The goal is to be better able to service all Mercedes-Benz owners for years to come!