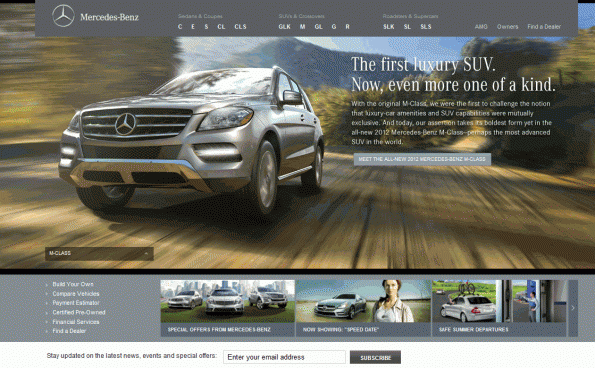 I use the MBUSA website everyday for images, product details, vehicle comparison and configuring. There is so much more there! Take a little time to expolore the site and you will become even more of a Mercedes-Benz enthusiast!
The Future Models area has great images of the 2012 M-Class and upcoming C-Class coupe.
Mobile Applications are available for Mercedes-Benz Financial Services, mbrace and product guides for the CLS-Class and SLK-Class.
There is a section devoted to all of the Mercedes-Benz environmental initiatives from responsible manufacturing to Fuel Cell development.
A link to Mercedes-Benz TV will connect you to great videos about our vehicles and the history of Mercedes-Benz.
The European Delivery Program details might tempt you into a new Mercedes-Benz and a tour of Germany!
Mercedes-Benz sponsors some great events and partners with amazing brands! See what is coming to a venue near you!