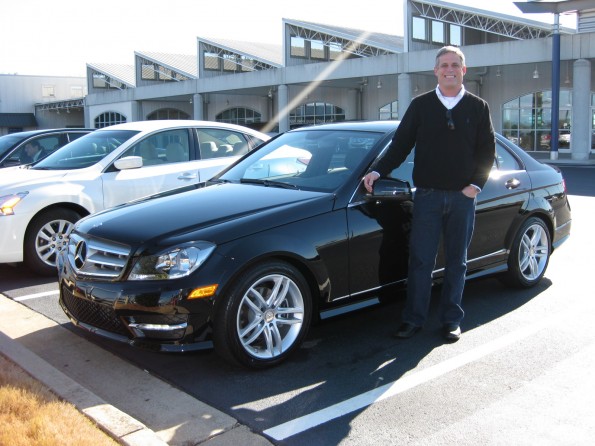 All I can say is WOW! I have purchased 3 new Mercedes-Benz automobiles previously, but this fourth one was a very special car buying experience!
I was in the market for a new car so I called my very dear friend Kim Cates. Kim and I became friends when I had my car serviced at Atlanta Classic Car before moving to Jacksonville, Florida.  She always provided first class service.
Kim put me in touch with Jesse Cannon-Wallace. After speaking with Jesse by phone, she went right to work finding me the right car and the best financing.  Within 30 minutes she called me back and asked me to select the exact vehicle I wanted to purchase.
I flew from Jacksonville to pick up my new car a few days later.  I was met at the door by Jesse with a big smile!  She offered a test drive and began demonstrating all the great features of my new car.  She was gracious enough to add a stop at Fryes to purchase the iPhone 5 adaptor so I could connect my phone to the car.  We arrived a little before the store opened and she respected my time by using the opportunity to complete the demonstration.
When we returned to the dealership, Jesse introduced me to Eric Palmsteen, Business Manager, to sign the paperwork.  Eric went above and beyond to secure incredible financing for me.  Additionally, he was so organized that it took just a few minutes to complete the transaction.
Thanks to Kim, Jesse and Eric, there is absolutely nothing more I could have expected or desired from a car buying experience.  I've raved about my experience so much that friends in Florida plan to purchase their next vehicle from Atlanta Classic Cars!  I strongly encourage anyone in the market for a new vehicle or needs service for a Mercedes-Benz to contact the amazing team at Atlanta Classic Cars! I look forward to buying all my future cars from them.
Oh, did I mention how much I love my new Mercedes?  By far it's the best of the four.
Thanks again,
Bill Brim
Thank you Bill – It was a pleasure!