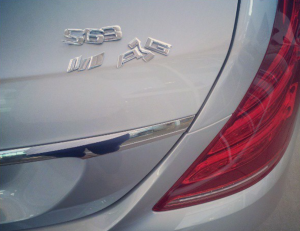 Naming a Mercedes-Benz is a complicated matter involving tradition, prestige and trademarks. Sometimes an old classic is removed and replaced with something that fits better with the current line-up. Well, that is going to happen in a big way over the next few years!
The goal is to center the model designations around the 5 core models – A, B, C, E, and S. SUVs will start with GL and then add the core model designation that tells you how it lines up. The Coupes and Roadsters get a similar system using the CL and SL pre-fixes.
A Sedan – GLA SUV – CLA Coupe
C Sedan – GLC SUV – SLC Roadster (formerly GLK and SLK)
E Sedan – GLE SUV – GLE Coupe coming in 2016
S Sedan – GLS SUV – CLS Coupe – SL Roadster (formerly the GL SUV)
Get it? I think it will take me a while to remember the new names and I know I'll be calling it the ML for years!
Also, we are shortening the engine designations:
d for diesel
e for electric
f for fuel cell
h for hybrid
There is going to be so much extra room on the trunk!