For Model Year 2016 lots of Mercedes-Benz models are getting new names. I have detailed this once before with a chart but I thought I would add a little more detail.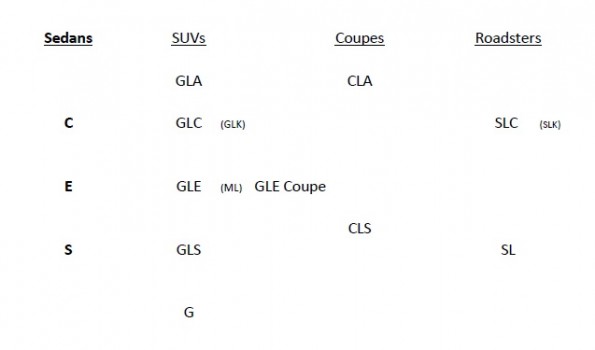 The sedans are the basis for the new names. The SUVs start with the GL pre-fix and add the associated sedan for size. The 4-Door coupes get the CL prefix and the 2-door roadsters get the SL prefix.
Obviously there are exceptions:
The G-wagon stays as-is. No one tells the G to make changes!
The SL cannot be the SLS so it stays as the SL-Class.
The GL and SLK will not change until next year when they get refreshed/redesigned.
Launch Schedule for new 2016s: (subject to change and change without notice)
C-Classes – August/September
E-Class – Available now
CLS-Class – July
S-Class – August (Mercedes-Maybach S600 available now)
SL-Class – July
SLK-Class – July
CLA-Class – October
GLA-Class – October
GLC-Class – November (pictures this month!)
GLE-Class – August/September
G-Class – October
GL-Class – August
AMG GTS – Available Now
As always, keep an eye on the MBUSA Future Models Section for the latest info!