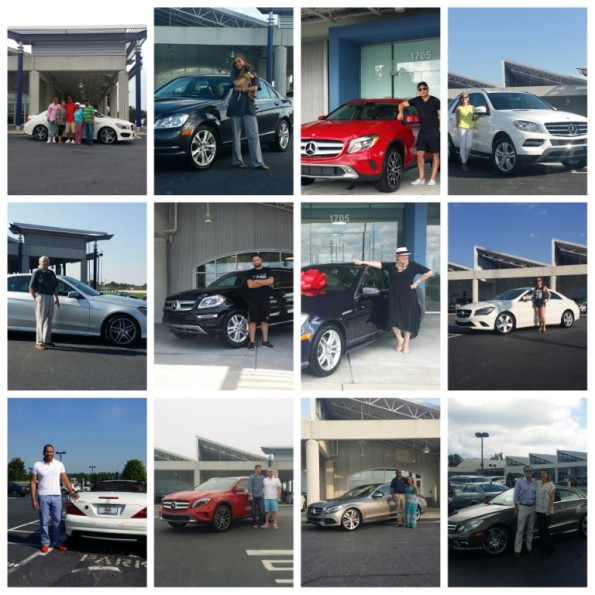 Do you see all of those happy Mercedes-Benz Owners? I know they love their cars and they also enjoyed the experience at the dealership. Why? Because they worked with me! I am a sales professional with a passion for my product.
I thought I would try something a little new and give advice on how to buy a car. Here is one way to make the process easy and enjoyable. Shop for your salesperson!
When you are looking for a place for dinner you look at reviews online. When you are looking for a salon you ask friends for referrals. A car is an expensive thing to buy…why leave it to chance by walking in the door of a dealership without knowing what you'll get?
Do you know what dealership you're going to visit?
If you know what dealership you want to visit, check out their website. There should be an "about us" or "meet our staff" section. Look for a friendly face, someone with common interests, someone who has been there a while or whatever makes you feel comfortable. Here is my profile from AtlantaClassicCars.com. I look friendly, right?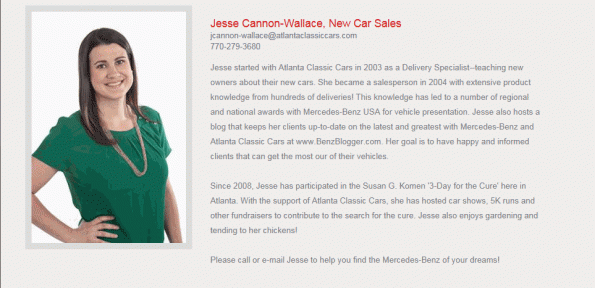 Or, check our DealerRater.com. You can look at all of the dealerships around town and see reviews for the whole place as well as specific salespeople. Look for features that matter to you. Do you want efficient? A family atmosphere? Quick responses? Attention after the sale?  Here is one of my recent reviews:
"Jesse and ACC…what a world class team!"
My wife and I had narrowed down her choices to a BMW 320i and the CLA 250.  We test drove both and told Jesse about our comparison.  Rather than trying to inject her opinion, or downplay the competition, she highlighted the features of the Mercedes.  She was a consummate professional, listened to our observations and in the end, was a key deciding factor in buying the CLA 250. She also showed us the service department which was world class in itself.  I will definitely recommend Jesse and Atlanta Classic Cars   They make a great team!
Ask a Friend!
You know someone that drives the brand you are interested in purchasing. They should be able to recommend their salesperson or someone at the dealership who can steer you towards a good salesperson.
Post it on Facebook! If you mention that you are car shopping you are bound to get opinions. My customers can share my page on Facebook for easy referrals! I send presents when you send customers!
Ask Your Service Advisor!
Many of my new owners come through the service department. They have had a Mercedes for years, feel comfortable with their advisor and ask for a recommendation when the time comes for their next car. Service Advisors and Salespeople often work closely together everyday and your advisor can match you with someone you would like.
Now Call or E-mail the Salesperson!
You've found a friendly face and are ready to go shopping. Call ahead! If the salesperson knows you are coming they can clear their schedule, pull up a car you would like to see and be ready. If I know you read my reviews online and specifically want to work with me I am going to work even harder to make sure you have an excellent experience!
There you go! Now you are ready to have an excellent purchase experience with a salesperson that you know can help you find the right car. No guessing, no fear, just fun and excitement! Good luck!
(Also, if you are shopping for a Mercedes-Benz you can just go ahead and call me now. No research necessary!)