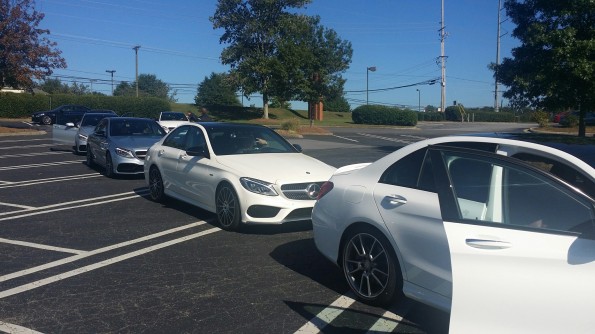 This week I was able to drive the C450 and the C63 back to back! It was great to experience the similarities and the differences in these two vehicles in person, rather than on paper! This was a street course, not a track event, so my impressions are based on real driving conditions around Atlanta not crazy track behavior!
Notice that the AMG designation comes after the model info. That tells you that while the C450 has a lot of AMG components, it is not a one man, one engine car.
The C450 AMG is going to be a very successful model! It has some of the aggression of the AMG while remaining an easy daily driver. The AMG tuned bi-turbo V6 has more power than I could use in traffic! It accelerates quickly and smoothly in Comfort mode and then gets a little bit more aggressive in Sport Plus.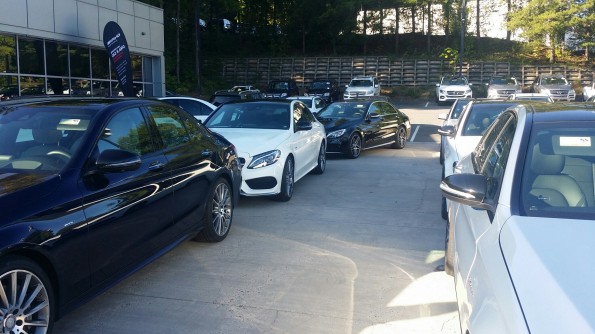 I have driven this vehicle many times and it never fails to make me laugh. The acceleration is face-flattening. The exhaust note is crowd gathering. The 2″ longer hood is obviously concealing a hand-built AMG monster of an engine and it is awesome! There is nothing not to love about driving the AMG C63!
However, I had a little trouble loving it in heavy stop and go traffic. I just wanted to go fast! The car can be tames a little in Comfort mode but you can still feel it trying to GO!
Comparison
Parked in a big group it is not immediately obvious which is the C450 and which is the C63. The both have an aggressive stance, beefy bumpers and sound great! Discerning customers will see the single lamella grill and different lower front bumpers as obvious differences.
For my daily commute the C450 AMG is plenty of car. I cannot imagine a part of my day where I needed more power, more exhaust, more brakes or Race Start! I enjoyed the AMG components but felt comfortable in traffic.
For $20,000 more than the C450, the AMG C63 needs to deliver something crazy. It needs to stand out hugely from the C450. It needs to look different, sound different, feel different. It does. Motor Trend recently gave it 4th place in the best Drivers' Car competition. It was the highest ranking for a sedan because this sedan is a MONSTER!
So, daily driver: C450. Daily driver for crazy people: C63!