Wendy was referred to Atlanta Classic Cars by her Realtor as she was moving to Atlanta from Chicago, having not owned a car for many years!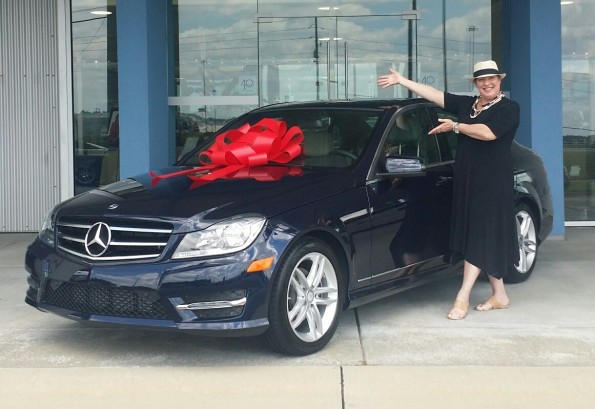 "I drove home scared out of my wits on August 6, 2015 and promptly left the car in my condo parking space for 3 weeks until my sister who lives in Macon said you have to come and visit me! So, I bravely got into the car on a Saturday afternoon with my dog Niko by my side and drove the 1-1/2 hours to Macon! I was so proud of myself.
It took me about 2 months to get up the nerve to drive to work from Midtown to downtown (only 10 minutes door to door) but now I drive every day and even drop one of my colleagues off at her apartment every night on my way home. I feel a sense of freedom I had forgotten I felt after 15 years of not driving – it is awesome!
You are a patient and special woman. You took the time to let me practice driving again in the parking lot near the dealership until I felt comfortable enough to drive home. You checked on me that very day to make sure I got home safely and I did…PHEW! You then have consistently reached out to me to check on how I was enjoying living in Atlanta and assured me you were there for me if I needed anything. That kind of personalized customer service is very rare in our world today.
I have been in the hotel business for 33 years and understand the high expectations our guests demand from us. You more than exceeded my expectations of customer care and made an otherwise scary prospect of buying (and driving a car) after 15 years without one very comfortable. I was in a seminar recently where we were asked to describe what kind of car we would be. I said a Lunar Blue Mercedes C250 – classy and a bit sassy! Thank you Jesse! With much appreciation and admiration, Wendy Parker"
Thank you Wendy! It was a pleasure!