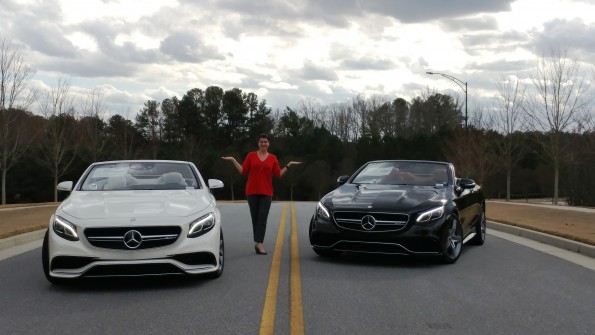 Dear Internet,
I am getting ready to order my new Mercedes-Benz and I just can't decide on the colors! You'd think I spend enough time looking at the cars to know what I want but I'm feeling indecisive. I thought you might have an opinion.
First, I am not deciding between S63 cabriolets, even thought what is what is in the picture! I am pretty sure it is going to be a C43 Cabriolet. I have really enjoyed my E400 cabriolet but the new E-Class cabriolet won't be ready when I need to switch cars. The engine in the 43 is a lot of fun and the new C-Class design is so beautiful! I know I would be happy with this vehicle. I'm not sure I'll ever be without a cabriolet again!
Now, for the color. My go-to is white/saddle/black top. However, I need to get a different color this time. I'm in a rut. Gotta shake it up! Here are the things I know for sure:
Not White
Not Red Interior
Not Brown Top
Not Black with Black top
Definitely Sport Package, Night Package, Multispoke Wheel
That's it. I am pretty open to everything else. Here is the link to the Build Your Own site. On the Summary Page there is a button to e-mail your build. Please do send it to me! jcw@atlantaclassiccars.com
My current favorite combos are: Paint/Leather/Top
Cardinal/Porcelain/Black
Selenite/Porcelain/Red
Lunar/Saddle/?
Iridium/Porcelain/Blue
Have you seen anything out in the world that you really loved? Is there a color that you think would be perfect for me? Is there a combination I am overlooking? I have about 2 weeks to make up my mind and then another month to change my mind a few times. 🙂 The order will likely lock in by April for a May build and late June or early July delivery.
For those of you keeping track, my E400 lease is not officially up until November 2017. I am planning to use the Mercedes-Benz Loyalty Accelerator Program to waive my last couple of payments so I can make the switch early. I estimate that I will hit my total allowed miles in July!
Thanks in advance for your help!
-Jesse   @benzblogger