I have signed up to participate in the Rally North America tour of the Appalachians in July 2017! This is my first official rally!
Rally North America is a scavenger hunt style multi-state road rally that visits different parts of the country each year. The summer 2017 trip happens to be in my area. Rally Appalachia will take me from Christiansburg, Virginia to Rome, Georgia and visit several racetracks along the way. There are 70 teams signed up and several on the waiting list. Countdown: The start is July 10th, just four months from now!
Now, I need help! Rally North America uses this event to raise money for charity. The charity for this event is Hope for the Warriors, a Veteran Service Organization. Hope for the Warriors provides support for veterans, family members and active service members. The focus is health and wellness, community involvement and transition from military to civilian life. Here is a chart about how they use donations.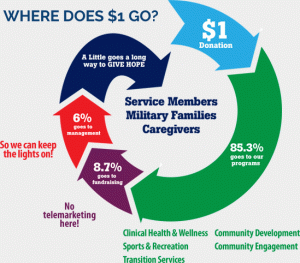 There are a couple of ways you can donate to both help Hope for the Warriors and to help team @BenzBlogger meet our fundraising goals!
1 – You can visit the online donation area a donate as an individual. Click here, choose your amount and you're all set!
$10.00 Provides a meal to a service member at a hunting or fishing trip
$25.00 Covers meals for a spouse visiting a wounded service member in the hospital
$100.00 Provides childcare for a service member attending standing Dr. appointments
$500.00 Covers books/supplies for a scholarship recipient
$1,000.00 Travel/lodging to a brain treatment facility
2 – E-mail me at jcw@atlantaclassiccars.com to set up a sponsorship. I plan to wrap my car with my donor info! I would be happy to use your Instagram or Twitter handle or a company logo. We can work together on placement and look. The higher the donation the bigger the placement! You'll still donate through the website like a private donation and get the receipt for tax purposes.
My team fundraising goal is $2500. Can you help me reach this goal and support a worthy charity? Would you like to see your name on my new convertible and get exposure on all of my social media channels? I hope so!
Regular updates to come. Thanks in advance!