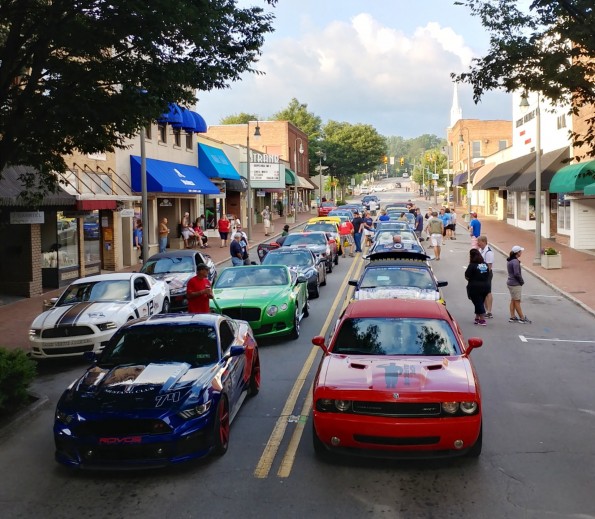 For my driving vacation this year I participated in Rally North America – Rally Appalachia 2. This event is a essentially a three day scavenger hunt with 70 other teams. We started in Virginia and ended in Alabama. Each morning we lined up, received a list of checkpoints and bonus point opportunities and then hit the road! It was totally up to the teams which checkpoints and activities they saw each day. The rally raised money for Hope For the Warriors which is a charity that supports veterans and their families as they transition back into civilian life. The whole rally raised nearly $150,000 this year!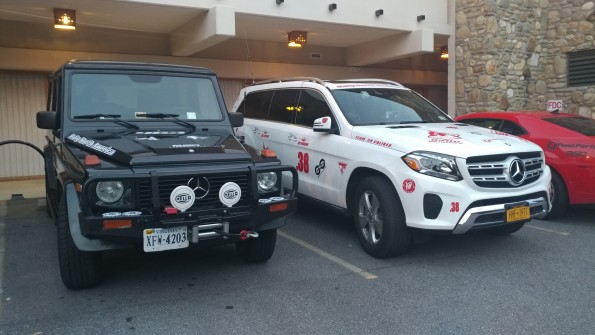 There was a huge variety of vehicles participating in the rally. Team Grey market brought their gorgeous G320 and ran it on all the tracks! The GLS on the right was actually a rental car and they said it was excellent for this event! There were a lot of American Muscle cars, a few exotics and some classics like a Corvair and vintage Suburban! It was so fun to meet other vehicle enthusiasts and trade stories.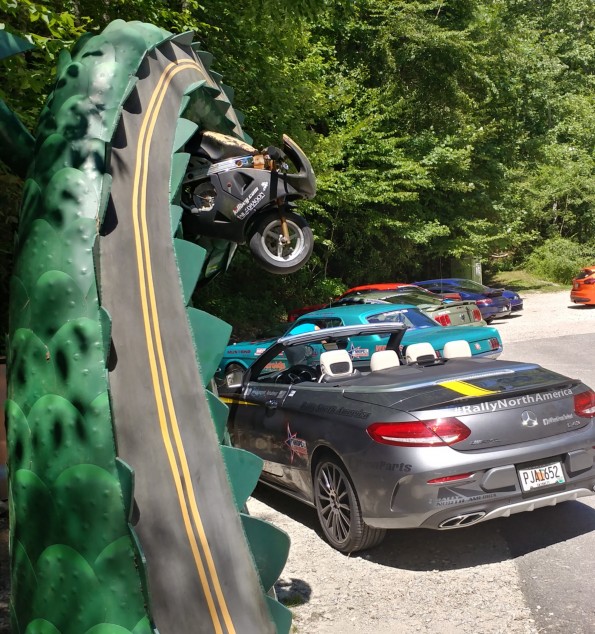 Along our route there were classic automotive must-dos like the Tail of the Dragon and the Blue Ridge Parkway.  This rally is not a race. It is for points, not time, so speeding is discouraged but fun is not! My new C43 was a delight on the 318 turns of the Tail of the Dragon and the shady roads of the Blue Ridge parkway were great with the top down.
Coincidentally another team had also just picked up their new C43! Team Euro Trash arrived in this Brilliant Blue C43 sedan and we spent two days rallying together. They look good as a pair (and sound even better)!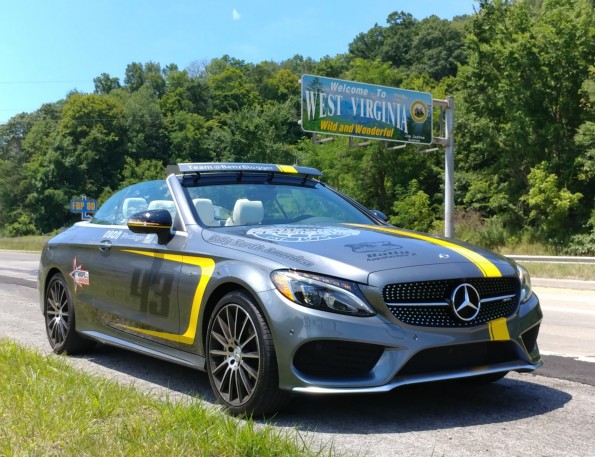 We saw parts of Virginia, West Virginia, Tennessee, North Carolina, South Carolina, Georgia and Alabama. Extra points for Welcome to the State signs! Fun fact, if you turn around immediately you get the Welcome to the Other State sign too!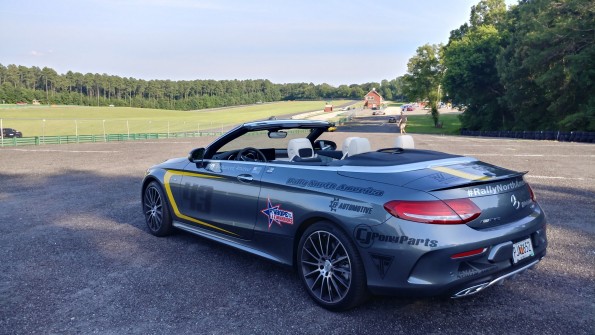 Track time on two iconic American tracks was included with the rally. We did quite a few laps on Virginia International Raceway (behind the G-Class – check out my Instagram video) which is a curvy, twisty course. The last day we were able to do laps on the oval at Talladega Superspeedway! That banking is serious business. 130 was my top speed in the C43. I had the top town! Other participants reported hitting 150!
Overall it was wan excellent way to see the US, with other enthusiasts,  while raising money for charity. A win-win-win! Thanks Rally North America!