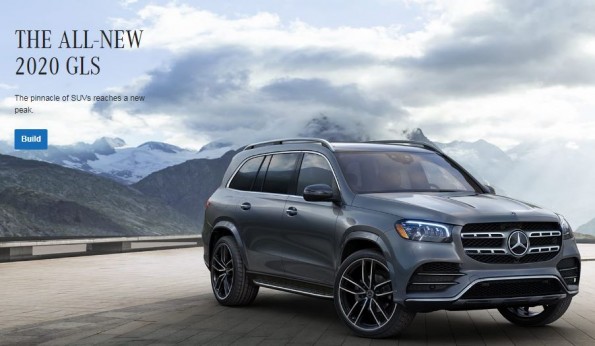 I know you have all been anxiously awaiting the "Build Your Own" feature for the 2020 GLS-Class to arrive! It's here! Did you know you  can save your builds and e-mail them to others? Have you been making your Holiday Wish List already? Hint, hint!
"In an ever-more-crowded field of luxury SUVs, treat yourself to some room. The all-new GLS is more spacious, more aerodynamic, and wraps class-leading innovations in style that's bold yet elegant. The SUV leader offers an even more comfortable lead." – MBUSA.com
Please note: everything you find on the internet is not the TRUTH! Occasionally the Build Your Own Feature will have some errors that need to be corrected when we place the final order. It's pretty good, but not 100% perfect. Don't be surprised if a certain option requires another option to be valid. Sometimes it will show a color/trim/feature that has delayed availability. It is an excellent tool but not the final word!
There are also some items listed that cannot be ordered with the car but would be selected at the time of purchase. The Pre-Paid maintenance plans are one of those items. Other items would be dealer installed accessories like all-weather floor mats – although they did just make it possible to order these with most models. It's good to add in the things you know you'll want but they won't show up on the window sticker.
Also, a note about the payment estimator. It's…not my favorite. The exact calculations are a little opaque but they generally leave out important variables like rates and taxes. It also assumes a hefty down payment that most people don't notice right off the bat.  It is best not to get one of those estimates into your head before getting an actual quote from a physical dealership. Just a tip.
So, enjoy the new GLS Build Your Own. May your Emerald Green/Espresso Brown vehicle check all your boxes!